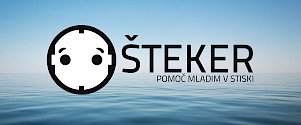 Our mental health program offers services and support in the form of counseling and various workshops. As part of our counseling service, we provide a safe and confidential space for young people to seek help with issues they are unable to solve on their own. The counseling itself is based on dialogue and finding solutions to address the root of the crisis.
Through our work with the youth, we have found that electronics are increasingly being used as an escape; to combat the issue, we started the Šteker Center for support, which offers resources and support to young people dealing with excessive use of online and digital technologies. The program encompasses both preventive and curative services, with a focus on different forms of addiction, including social media and other online content, mobile technology, computer games, gambling, online pornography and compulsive shopping.
The main activities of the Šteker Center include:
preventive workshops on excessive internet use aimed at primary and secondary school students, their parents, counselors and other professionals;
free counseling for youth struggling with excessive internet use and those around them;
technical support for parents with resources such as information on online security apps.
The center is our biggest and most well-known program. The approach employed by our multidisciplinary team ensures quality care.
Read more on the center's website.

Naj torba ne bo borba ("A Bag Should Not Be a Burden")
The project addresses the problem of overloaded school bags and its effects on children, with the long-term goal of limiting the load to under 10% of a student's body weight as recommended by experts.
In a 2016 sample size of 562 students, 81% carried more than 10% of their body weight, while 42% carried bags that exceeded 15%. This kind of overload can severely endanger a child's health or physical development, causing problems such as spinal deformities, headaches and attention deficits. These can in turn affect a student's performance.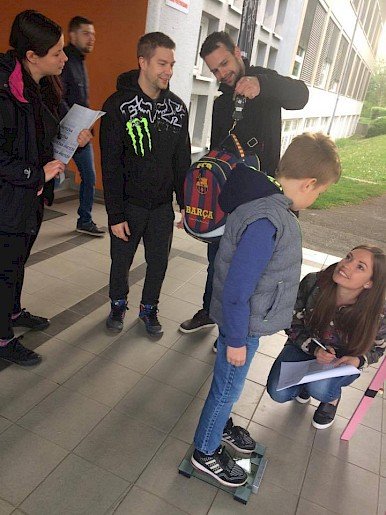 Posluh! ("Listen!")
A program that encourages acceptance by normalizing difference and diversity. It's built on a basic premise of showcasing diverse stories and experiences as a tool for informal learning that teaches open-mindedness and boosts social skills.

The program employs volunteers from marginalized and minority communities, disadvantaged groups and other vulnerable populations. Over the course of a school lesson, the volunteer shares their life story with the class, with an emphasis on experiences and issues caused by their marginalization. Their sincere, spontaneous and often intimate presentations aim to break down prejudice and stereotypes while promoting understanding, diversity and tolerance.
"Listen!" aims to include young people from the following categories:
those facing discrimination based on gender identity, ethnic or religious affiliation, sexual orientation, disability or those belonging to other marginalized groups;
those with limited social skills;
former and current convicts or addicts;
young and single parents;
orphans and children of divorce;
young people with a low standard of living, low-income and unemployed individuals etc.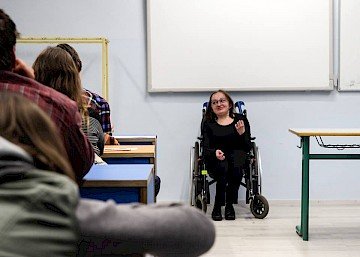 The IndiJanez Newspaper
The occasional newspaper published by our organization, with online and print editions. In addition to long-form articles and reports, it includes various shorter pieces with a narrower focus. The paper consists of translated and adapted content, as well as original contributions by our team.
The 16-page first issue was published in October 2012. The online edition is updated regularly, while the print edition is published on occasion and distributed in various public places and other locations around Maribor. Both are available free of charge, and readers are encouraged to freely share and reproduce it. We also accept their contributions.
More information, including how to contribute, can be found on the website.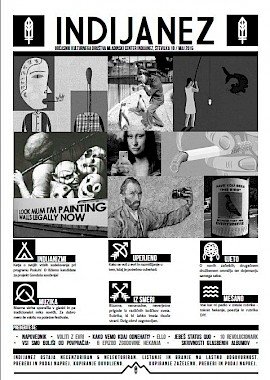 Pekarna TV
An online video portal with the aim of raising awareness and producing informative content. Pekarna TV spotlights stories that are overlooked or receive little coverage in mainstream outlets. The videos explore topics pertaining to the local community as well as those affecting society at large and offer social commentary and criticism, highlighting the anomalies and irregularities of modern society.
The community-oriented content published on Pekarna TV also documents alternative or misrepresented cultures and lifestyles, centering the perspectives of disadvantaged, marginalized and mistreated individuals and groups often ignored by the media.

More on the Pekarna TV portal.
Club
MC Pekarna is an alternative club and concert venue, considered one of the most active clubs in Slovenia and abroad. The venue mainly seeks to support acts that tend to go unnoticed by mainstream commercial venues. As a result, it has become a popular showcase for alternative genres, though it doesn't favor any particular group or subculture.
The club is home to a wide range of other activities. During the day, it operates as a café, and the space itself can accommodate different types of events, including exhibits, debates and literary nights. In the evening, it hosts DJ nights, concerts, jam sessions, workshops, themed music nights, karaoke and more.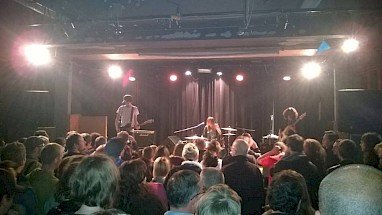 Reading room
The second-floor reading room in MC Pekarna offers literature in Slovene, English and German. The content includes science fiction, crime novels, Nobel Prize winners, war literature, art books, poetry, philosophy, travel literature, anarchist and socially critical literature, as well as select magazines. It also hosts literary events, debates and other cultural activities.
We are especially proud of our comic book collection, which we plan to further showcase and expand due to the ability of the genre to draw in and inspire young audiences regardless of whether the theme is satirical, socially critical or completely bizarre.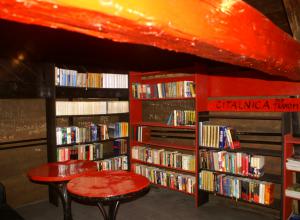 More information on MC Pekarna and related activities can be found on the club's website.
Event Organization
At IndiJanez, we organize small and large events in Slovenia and abroad. Our production focuses mainly on alternative genres, and we additionally offer our experience in promotion, production and management to other organizers.
Sindian Underground
Since 2006, Sindian Underground has organized events featuring mainly international artists, with a focus on alternative genres such as rock, metal, hardcore, punk, reggae, ska, jazz, funk and others. Our work is defined by professionalism in all phases of a project, from the planning stages and promotion to the actual event and postproduction. We are proud to have a team consisting of passionate individuals whose work is also their lifestyle.
We started out as part of the MC Pekarna club, where we were organizing small-scale projects as early as 1994. The decision to undertake bigger events came naturally, in response to our visitors' increasing interest in foreign music scenes in addition to the one in Slovenia, the development of which we have importantly contributed to over the years. After our first "major" concerts premiered to positive reactions, we started the Sindian Undergound section (Sindian being a portmanteau of "Slovenian Indian"), and we have used that name ever since.
Today, we are one of the most active event planning organizations in Slovenia and Croatia. Driven by numerous references, years of experience and friendly relationships with other organizers, we see every new project as a personal and professional challenge. Sindian Underground offers the services of a promotional and production agency. Through years of event planning, we have established successful PR channels, from digital and mail correspondence to distributing posters and flyers. We are also capable of planning technically and logistically demanding events.
You can contact us here or go to the Sindian Underground website for more.
Puppet Theater
Our six-member theater group, established in 2016, produces and performs puppet shows aimed at children. It follows the "do it yourself" method, as all the puppet and prop work, stage design, directing and writing is done by members of the group. Their plays aim to subvert classic hero stereotypes and challenge conventional thinking while creating educational opportunities with a tendency towards the non-material.
They have staged two plays, the adapted Črno belo (Black and White) and the original Netopirček in sraka (The Little Bat and the Crow). A third play is currently in the works.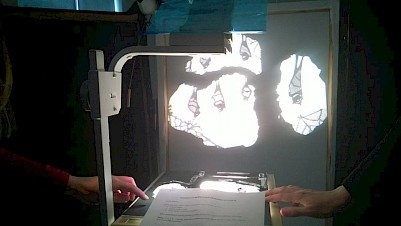 The Računajte na nas Youth Festival
Računajte na nas ("You Can Count On Us") is a five-day festival of creativity, skill and innovation that takes place on the streets of Maribor. Participants set up stands across the city where they present their productions, projects, products and other work in the fields of science, manufacturing and hospitality.
The focus on youth creativity offers an exciting program of technical innovation, street performances, dance, comedy, music and other content. It also creates an opportunity for young entrepreneurs, professionals and job seekers to develop their social and networking skills for a more confident and successful approach to the job market.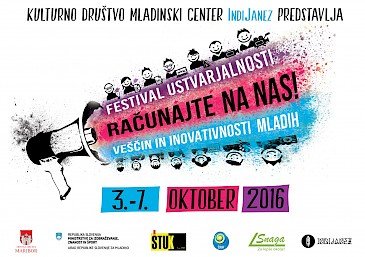 Interventions
The goal of urban interventions and similar initiatives is to draw attention to important issues and different types of activism. Carried out by our volunteers, they take place on the streets of Maribor in direct contact with the public.
Our past and current urban interventions include:
the ECO Patrol ("EKO patrulja"), where volunteers promote environmental activism in parks and other public areas;
the Cable Car Confrontation ("Gondola soočenja") series where two strangers with different backgrounds (and often from different generations) spend a cable car ride discussing their views on a pre-assigned topic;
repainting walls and surfaces containing hate speech and other unacceptable forms of graffiti, etc.